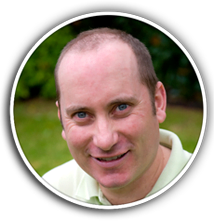 Who's this Cameron Strachan and what's he on about?
I've been telling golfers for a long time that the chances are they're making the game harder than it needs to be. If you're having trouble, then learn to take things away, don't add to the complexities of the game. If you don't know how to do this, then maybe you need this site.
G'day there, my name is Cameron Strachan. My first game of golf was nothing special – it was actually bloody awful. I shot 156 and took 17 hits on the first hole. My second game was worse – shooting over 160. I had no special talent or skill for the game. But something intrigued me with golf.
The next few months were spent hitting balls in a horse paddock near my home. I'd go back and forwards, totally immersed in the game of golf. And my scores improved too. I broke 100, then 90 and before long I had shot a par round.